We know Baby Giraffe Little Darling is happiest with her head in the trees. So when interior designer Liz Caan told us that the theme for this beautiful bedroom was "modern tree house," we knew our friend had found the perfect home.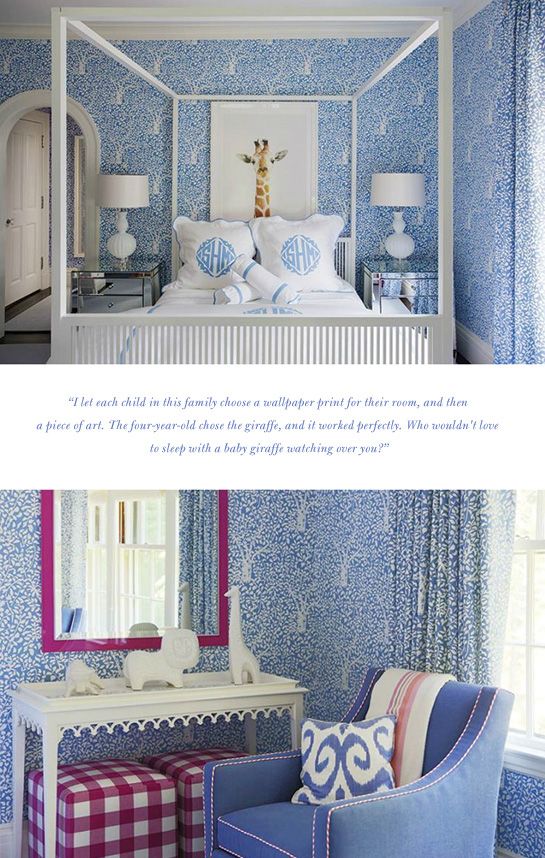 Located in a historic house outside of Boston, this bright blue oasis belongs to a lucky little girl who's one of four children. "The room was designed about one-and-a-half years ago, when she was four," Liz explains. "I wanted a room that felt youthful, but would still feel chic when she's sixteen. I love the restrained palette and the modern furnishings, which are rooted in the classics. We took a four-poster bed, for example, and stripped it back so it felt a little more modern. Same with her console table and the pink acrylic mirror hanging over it."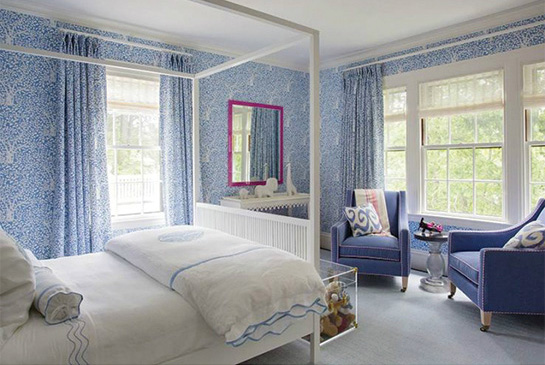 And how did Baby Giraffe Little Darling find her way into the mix? "I let each child in this family choose a wallpaper for their room, and then a piece of art," Liz says. "The four-year-old chose the giraffe, and it worked perfectly. Who wouldn't love to sleep with a baby giraffe watching over you?" (Later, she adds, "Her brother chose the Zebra.") Nothing makes us happier than seeing them in such bright, soulful spaces.
Thank you to Liz Caan for sharing!