Pets are members of the family, too, and this year, we thought we'd help animal lovers everywhere treat their furry, four-legged friends for the holidays. With Christmas just over a week away, we know we're cutting it close (we've been busy making sure our holiday orders get out on time!), but, mercifully, pets won't know the difference – and we're confident they'll love us just the same.
Below, choice gifts for dogs and cats – and, for good measure, one for the birds, as well.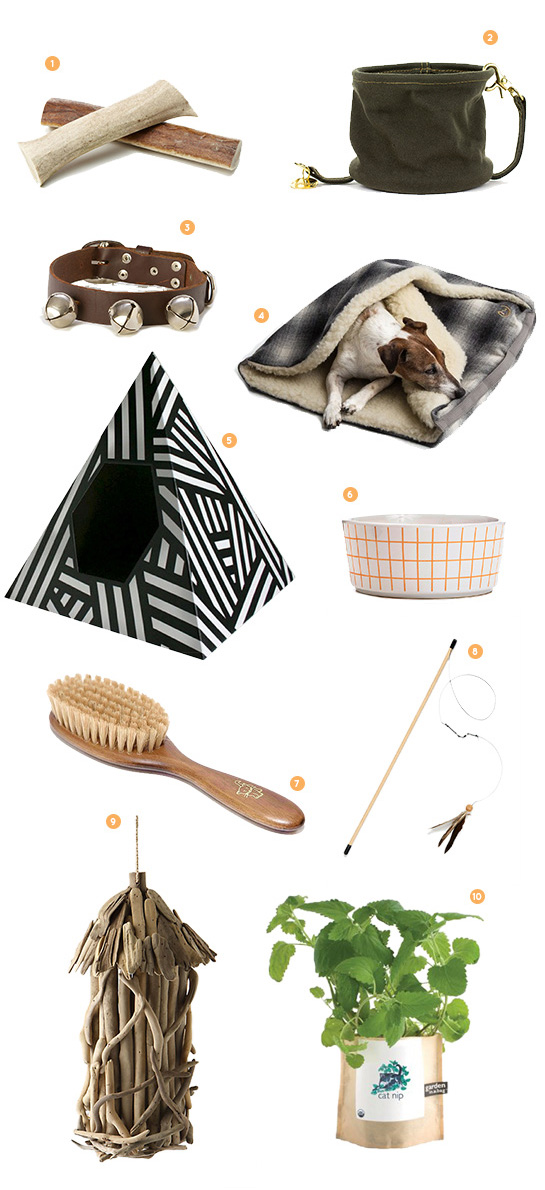 1. Antler chew toy, $16. Made in Finland from naturally-shed reindeer antlers. 
2. Canvas bowl, $36. This collapsible water bowl comes with a brass clip so it fastens easily to leashes.
3. Sleigh Bell collar, $38. Puts a spring – and some spirit – into every step.
4. Sleeping bag, $160. A snug tartan bed lined in sheep's wool, by Cloud 7.
5. Cat teepee, $32. No longer available
6. Patterned bowl, $18. So they'll look hip as they sip.
7. Cat brush, $19.95.No longer available
8. Feather cat toy, $8. No longer available
9. Birdhouse, $58. Constructed using mangrove branches from the Philippines.
10. Garden in a Bag: Cat Nip, $9. No longer available.