"My baby Freddie is an old soul," says Amanda Moore. "He's super chill and a really happy baby. His room is very calm, which totally reflects his nature." With a soothing palette of grays, whites, and yellow, the four-month-old's nursery is a space perfect for play during the day, and peaceful respite at night. A collection of animal friends add to its happy atmosphere: an owl and a hippo stand guard on a charming white credenza; a group of plush creatures congregates atop wicker baskets. To round out the menagerie, eight Little Darlings flank the nursery window.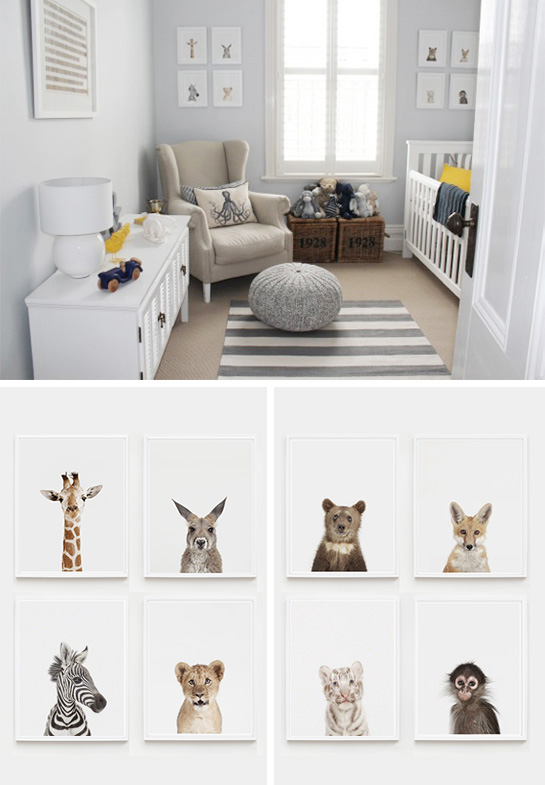 "The Little Darlings prints are stand-outs," says Amanda. "They're so classic – beautiful, sweet, and timeless. I arranged the prints in two groups of four because I love the symmetry and was able to have four on either side of the window. I used simple white frames to the let the animals be the main feature."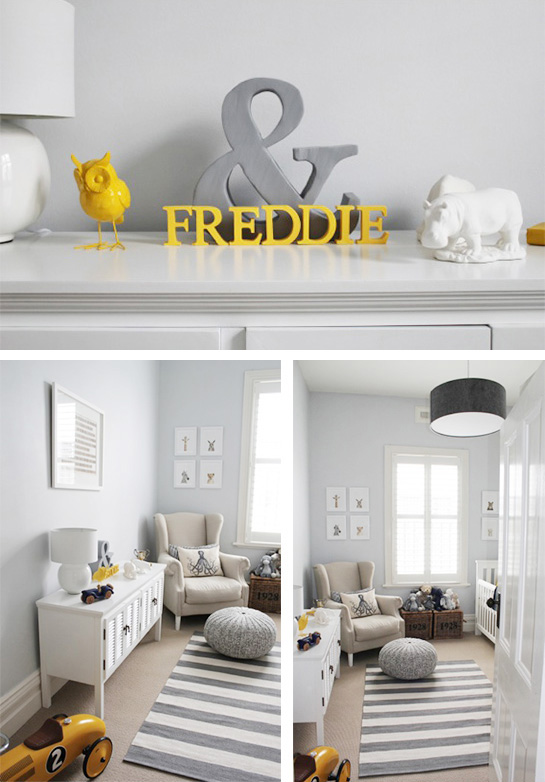 Other highlights? "I love the Scrabble nursery rhyme piece, which I made myself, and the classic yellow ride-on car, which is perfect for a little boy."
Amanda should know: as co-owner of Hunter Baby – a clothing line for baby boys based out of Australia – she's something of an expert. Having noticed a lack of stylish, well-made items for her son, she and business partner Holly Kent (whose daughter's nursery tour will appear on the blog next month) decided to take action. Soon, the two busy mothers found themselves with another baby: their business. Through it all, though, they've kept their sanity – as the pair write on their website, "We love the chaos."
Thank goodness for calming hideaways to come home to. Everyone – even old souls – needs their naps.
Stay tuned for the second Hunter Baby nursery tour, coming soon!