Classic romance meets modern warmth in our latest wallpaper pairing, with the Animal Print Shop's Baby Camel at the center of an eclectic, inviting nursery. A consistent favorite thanks to his friendly disposition and the twinkle in his eye, Baby Camel's signature traits make him just the right match for a lighthearted room filled with fun details. Perfectly offsetting his frolicsome nature: a smoky blue and white wallpaper from British brand House of Hackney, chosen for its unpretentious sophistication and plucked-from-the-garden freshness.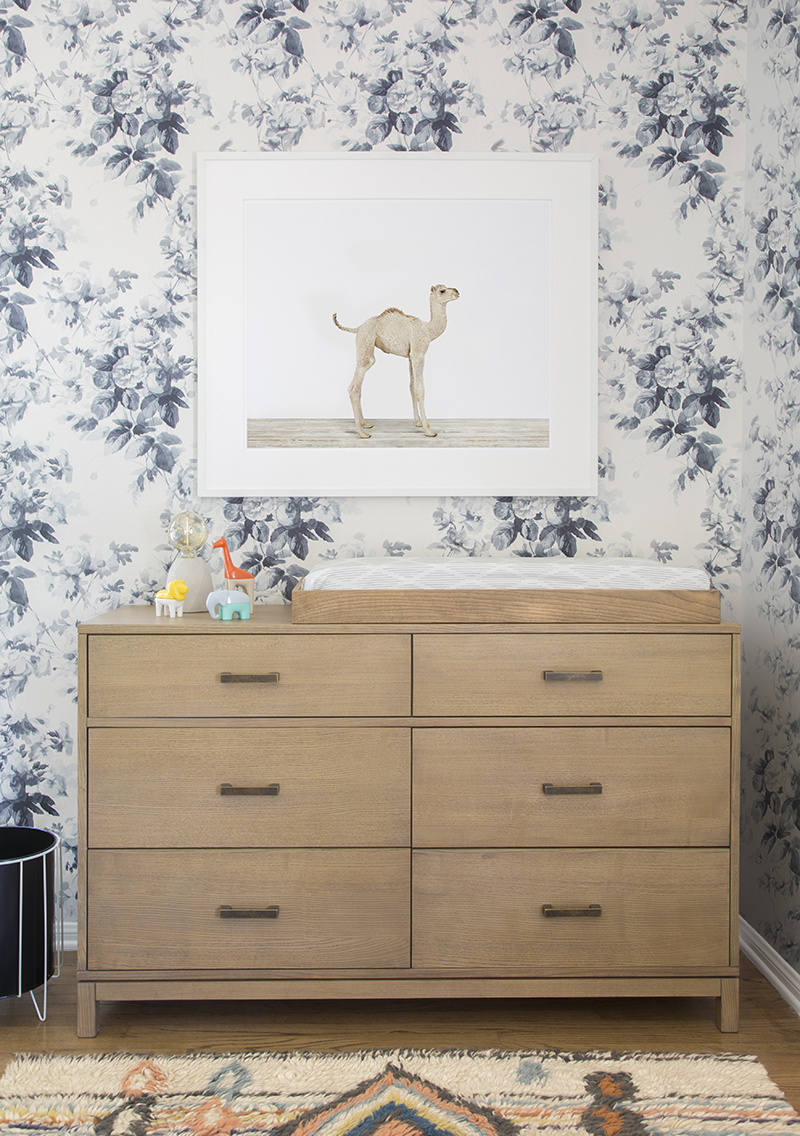 Husband and wife Javvy M. Royle and Frieda Gormley are the creative minds behind House of Hackney, a company that launched in 2011 at (you guessed it) a house in Hackney. Today, it's a luxury lifestyle brand with top-quality products ranging from wallpaper to window treatments, furniture to fashion to fine china. In part a response to the popularity of bare bones minimalism, House of Hackney has "captured the zeitgeist and imagination of a new generation," making stand-out prints and compelling color their calling card. They've also placed importance on merging modern sensibilities with a deep respect for tradition and local craft, manufacturing the majority of their pieces in the UK. And while it's near impossible to pick a favorite print from their impressive lineup — which includes rich florals, bold stripes, and spectacular Art Deco animals — we saw London Rose and were sold on the spot.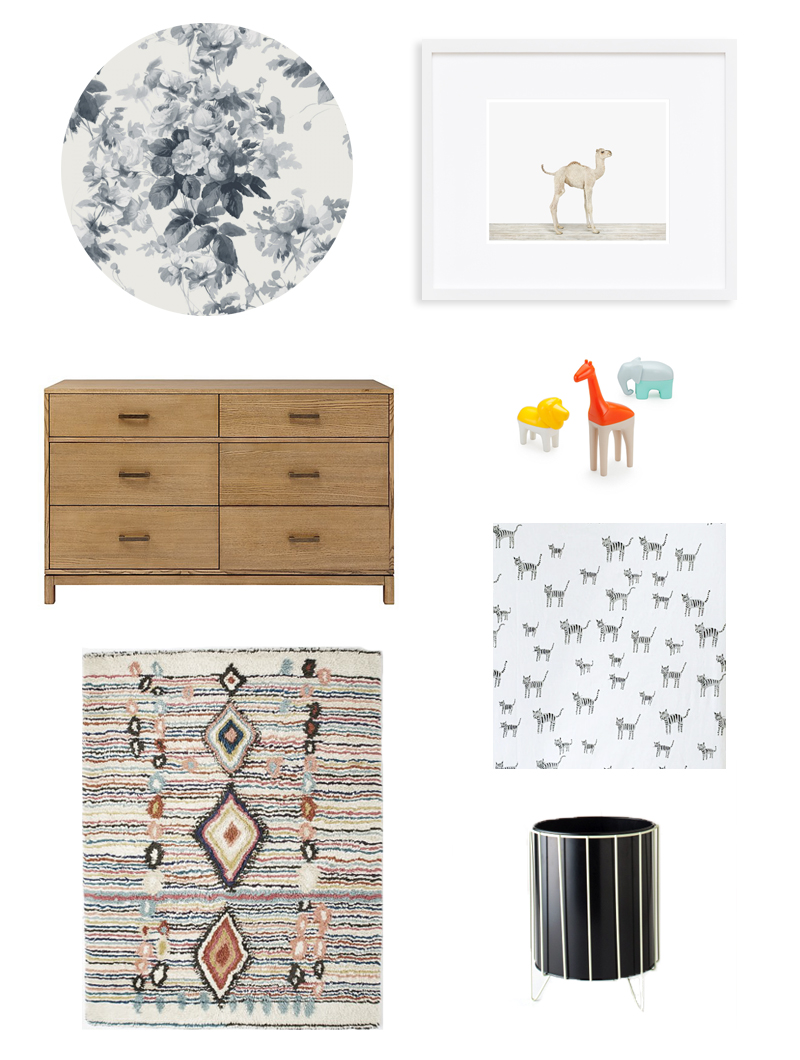 Here in our newest nursery, London Rose's hand-painted design sets a serene, dreamlike stage not just for Baby Camel, but for a fresh assortment of furnishings and decorative finds, as well. To complement the paper's unmistakable quality, each piece was selected with an eye toward style and thoughtful craftsmanship. We started with a timeless wooden changing table from The Land of Nod, picked for its clean lines and polished, unisex appeal. For the pad in its matching topper, we chose a 100% cotton cover from Petal and Branch, a mother-daughter team based in Amherst, New Hampshire. A handcrafted, Fair Trade Certified wool rug, made by Indian artisans for West Elm, added hits of softness, color, and a hodgepodge of unexpected shapes; meanwhile, a wire-framed wastebasket, handmade in Schoolhouse Electric's Portland factory, gave even an oft-forgotten piece an integral place in the room. Finally, to finish, we spruced up the changing table with the perfect crowning touch: a colorful animal toy set from Kid O, with nine mix-and-match pieces for constructing fanciful creatures straight from the pages of storybooks.