Our customers often ask if it's okay to group horizontal and vertical prints. Well, designer Andria Fromm artfully answers that question with an Animal Print Shop feature wall in Baby Harley's nursery beautifully photographed by Alyssa Rosenheck.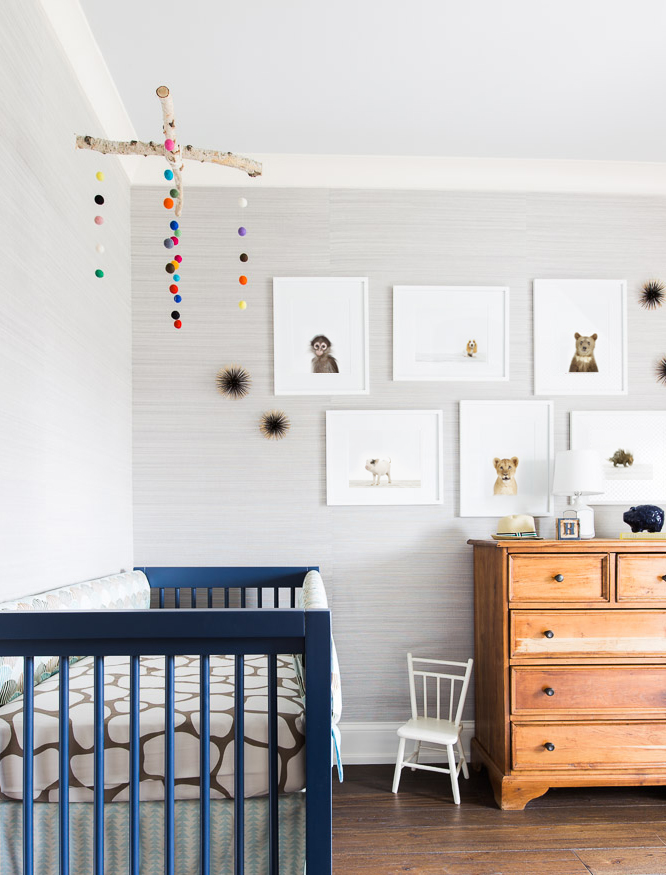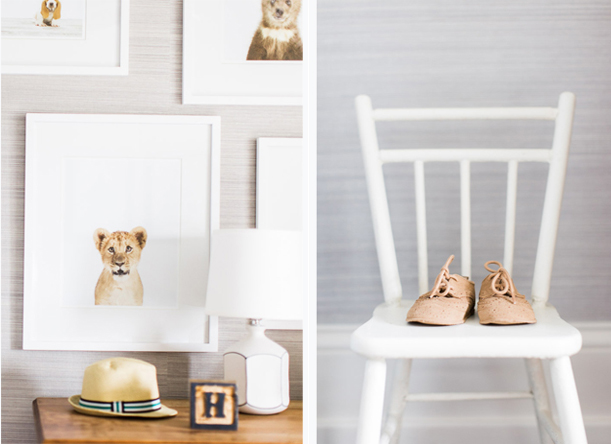 Designed last fall by interiors expert Andria Fromm of REDO Home & Design, baby Harley's nursery is playful, but still manages to be soothing and stylish, cozy and composed with crisp details. "Harley's mother knew what she was having," says Andria, "but we didn't want the room to scream 'boy.' The process was more about mixing prints and patterns, textures and fabrics, wallpaper and artwork, so that the room could grow with the baby over the years."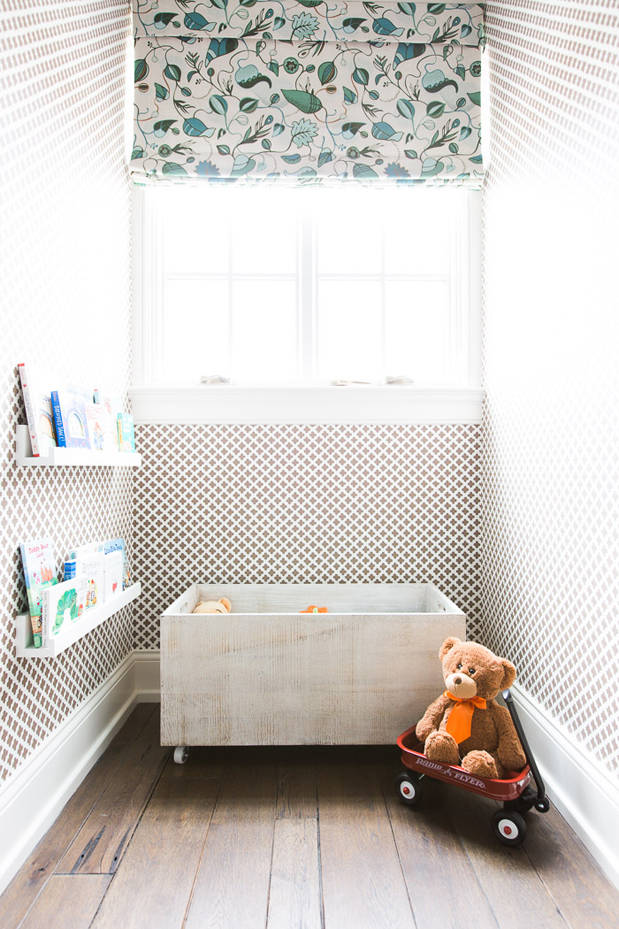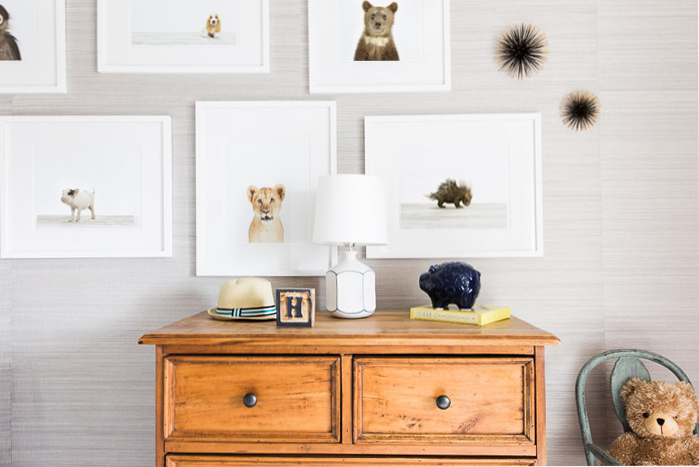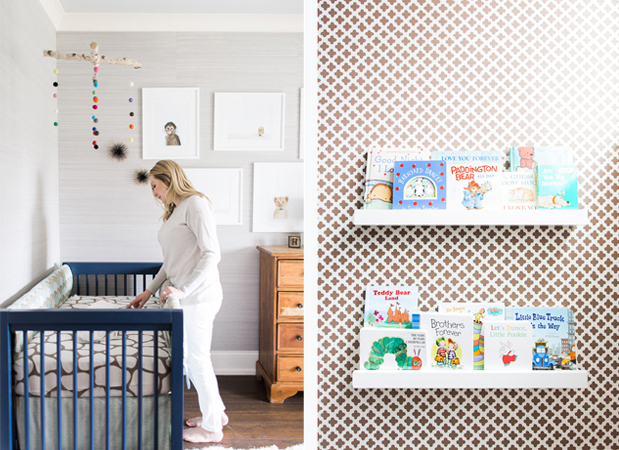 "We started by selecting a color palette based on the ottoman fabric," Andria continues. "It had these great rust tones, with gold and navy. I love pulling inspiration from a pattern." Other details close to the designer's heart: grasscloth wallpaper from Cowtan & Tout; a multihued pom-pom mobile (made by mom); and a sweet, snug reading nook. "Children need small spaces to tuck into," she says. "They're comforting." We especially love the Devon crib in deep blue, which converts to a toddler bed. We also can't help but wonder where the little coral colored doors lead!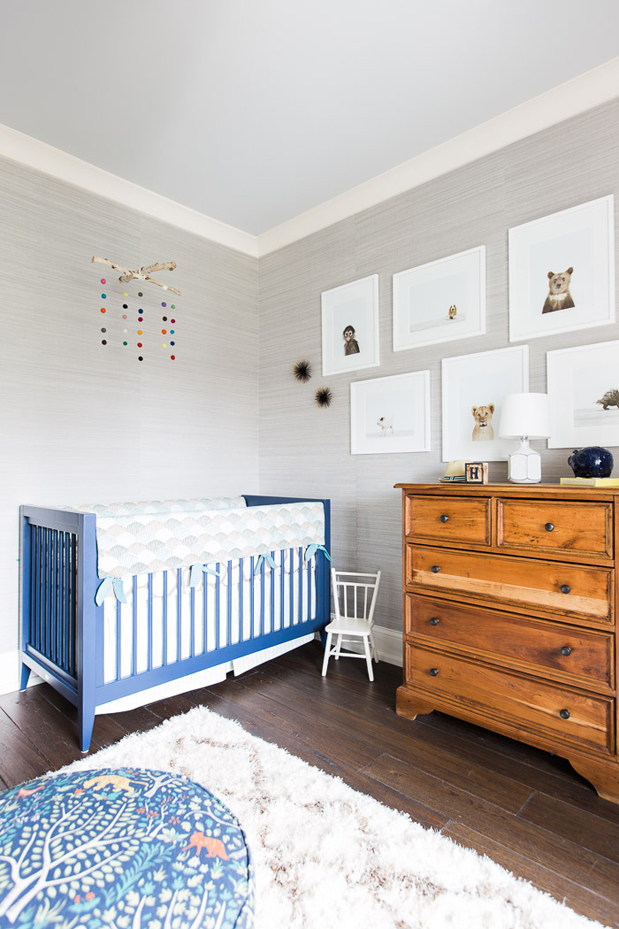 And what about the set of six Animal Print Shop baby animal pals keeping watch on the wall above the dresser? "They're the main feature," Andria says. "We wanted to create a wall of interest, so we started with the grasscloth and layered with modern frames filled with Sharon's beloved animal photography. Mixing both horizontal and vertical formats give the space a lovely element of interest and works so well with the elevation change in the ceiling. Harley's brother, Barrett, loves all the baby animal prints most. He always wants to go in and look at them — and he's learned quite a few of his animals based on that wall. He's obsessed with Baby Monkey Little Darling in particular — every time they pass by, he has to say hello." How sweet is that?