To introduce the newest addition to our menagerie of baby animals, Baby Zebra, we sought to design a feminine nursery of soft pink, natural materials, and wood tones. For Baby Zebra's nursery (the eigth in our Nursery Project series) Sharon drew inspiration straight from Baby Zebra –"She's so sweet and if you look at her stripes where the white and black meet, she almost looks pink!" Says Sharon of her newest muse.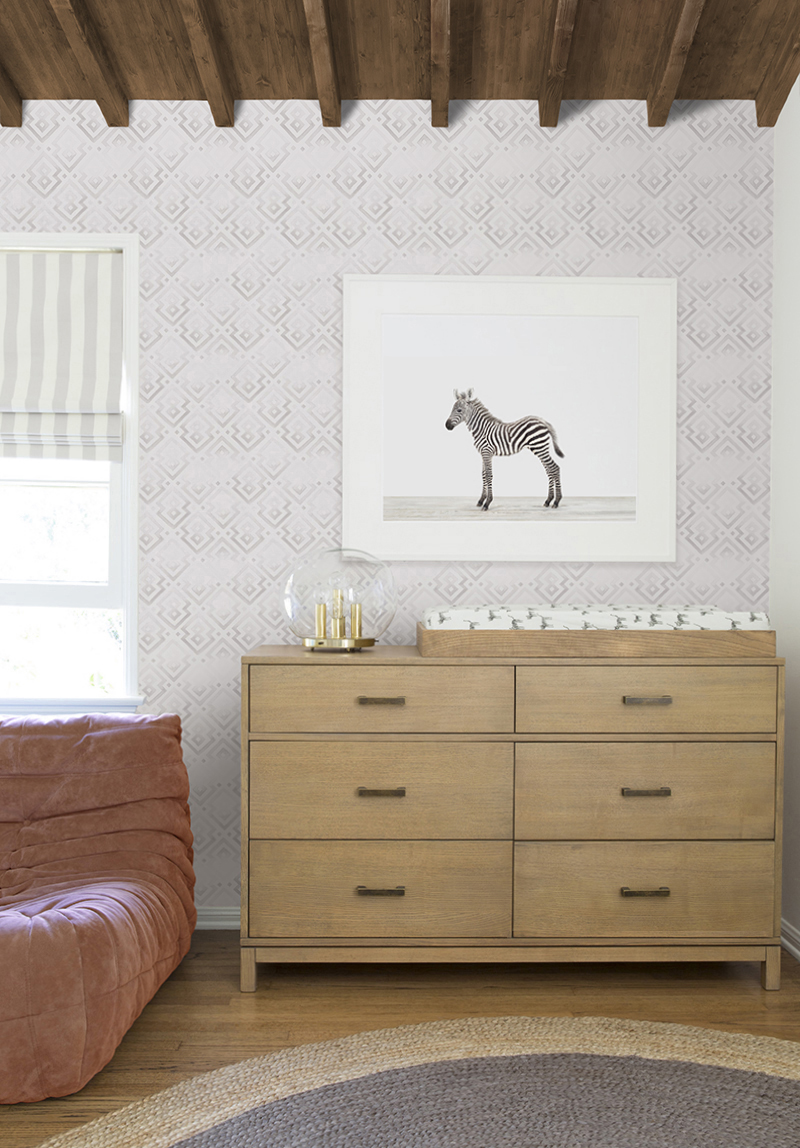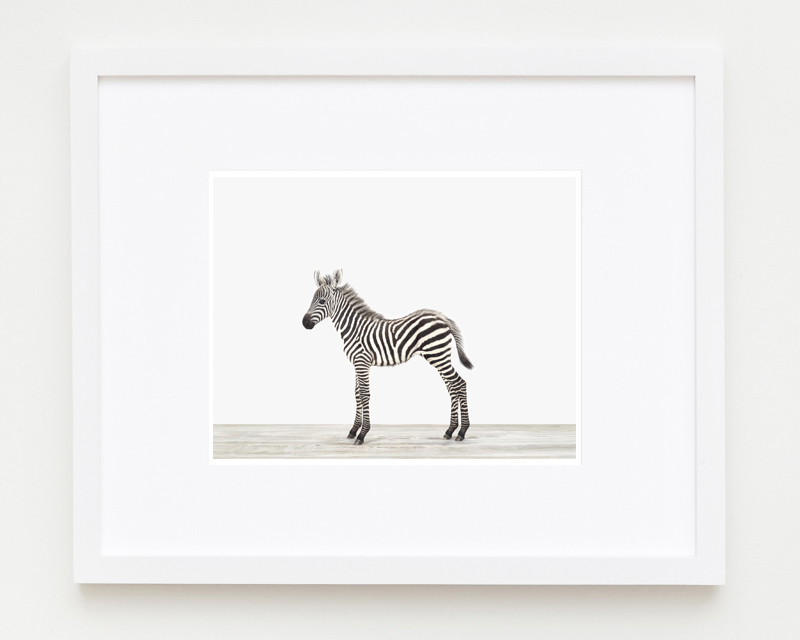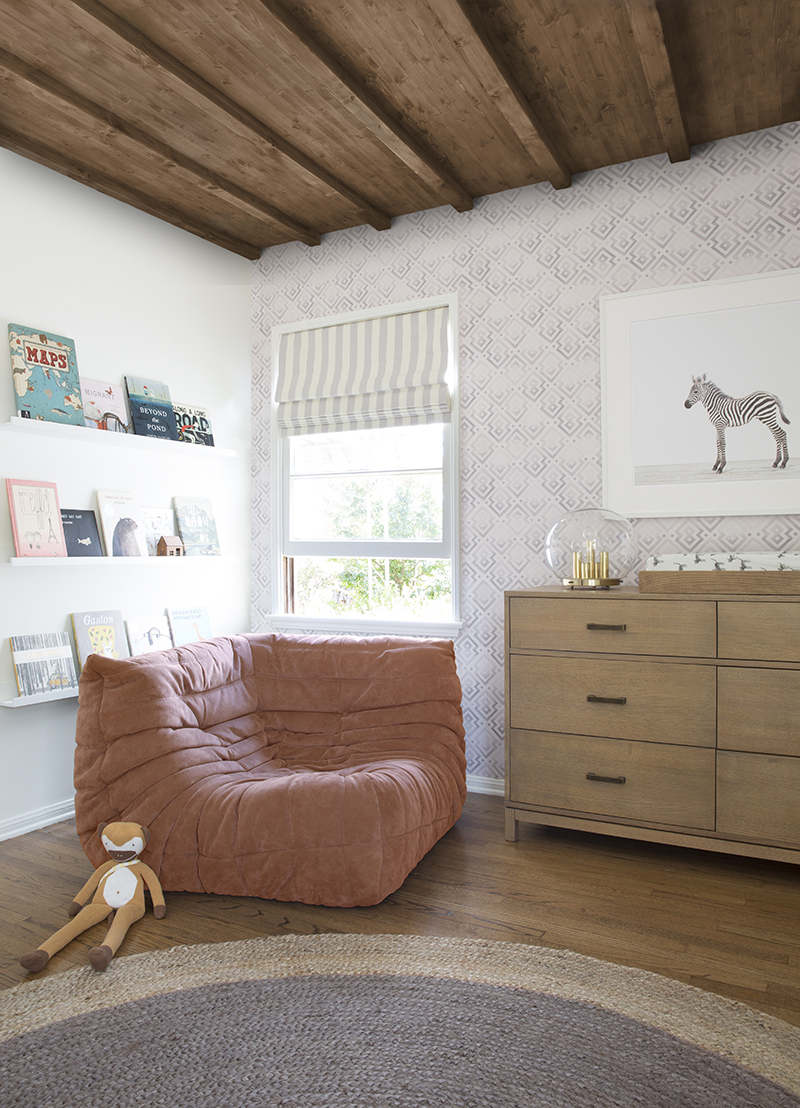 Designing the room in layers as she always does Sharon continues:  "I knew I wanted a wallpaper to compliment Baby Zebra without competing with her stripes or soft feel. The perfect wallpaper would be a tonal pink with a subtle pattern so it wouldn't distract the eye from Baby Zebra." Kremelife had the perfect palette and a pattern that fit the bill in their Diamondettes line.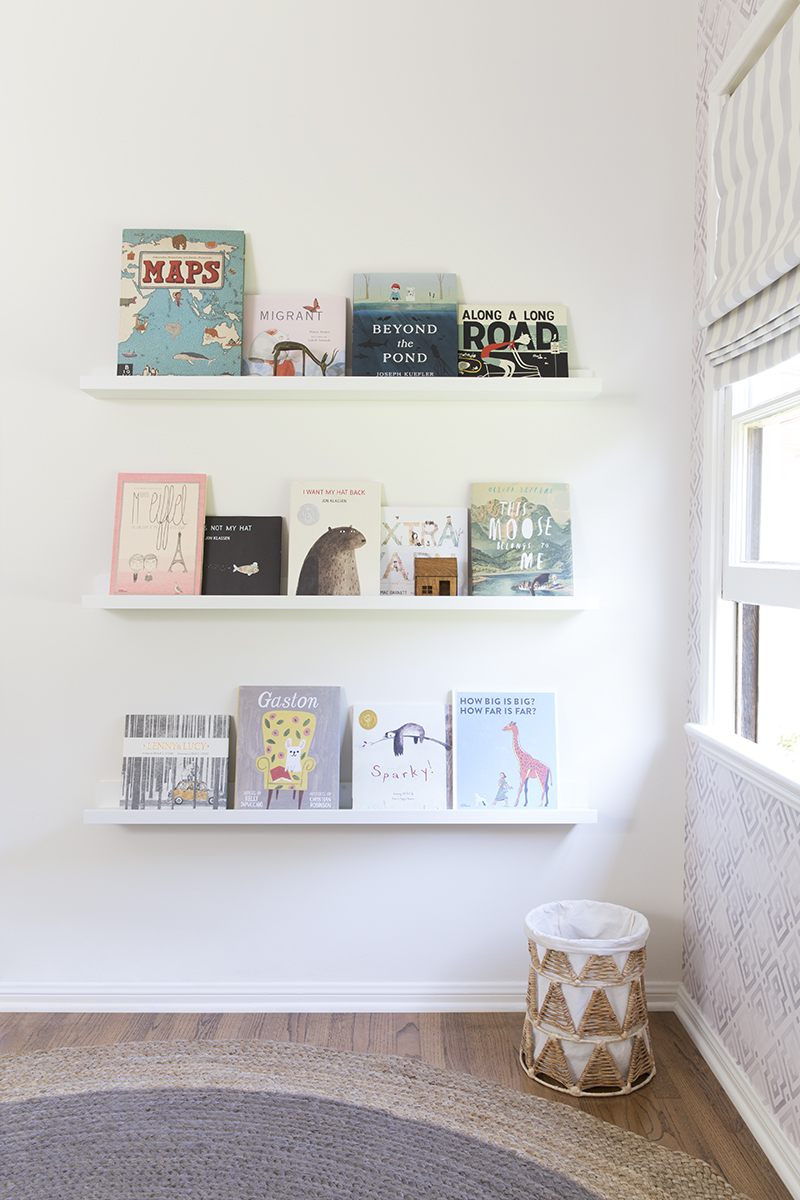 And, for a touch of sophistication, Sharon adorned the dresser with a vintage brass tea light globe. "The globe light is on a dimmer and fills the room with a soft glow." Perfect for taking advantage of the curated library and reading a bedtime story in the coral colored Togo chair by Ligne Roset. The sisal rug "really ties the room together," kids Sharon ala The Big Lebowski. The space called for a round rug and she found the perfect one at West Elm.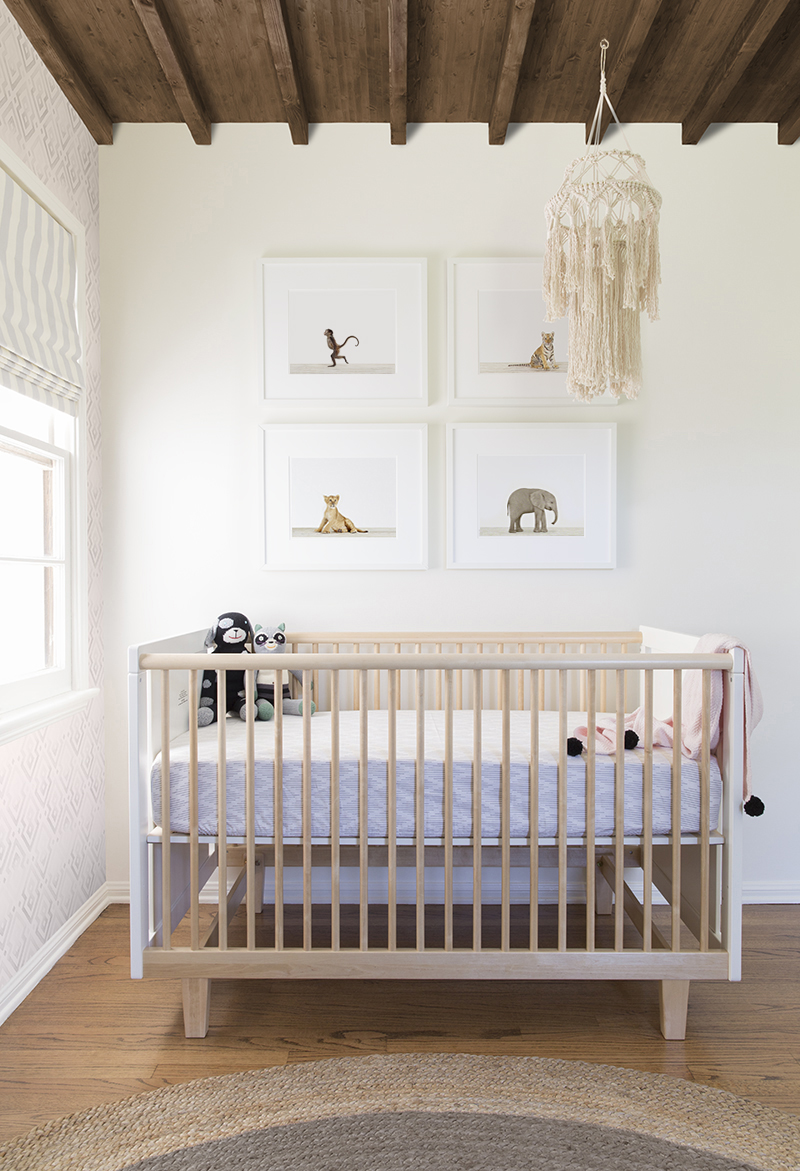 With a nod to Safari themes, Baby Bengal Tiger, Lion Cub, Baby Monkey, and Baby Elephant hang above an Oeuf Rhea crib. "I'm kind of obsessed with macrame right now." Sharon confesses. "I discovered Sara of The Forest Fern, who makes the most beautiful pieces, including the lantern style we selected for this space."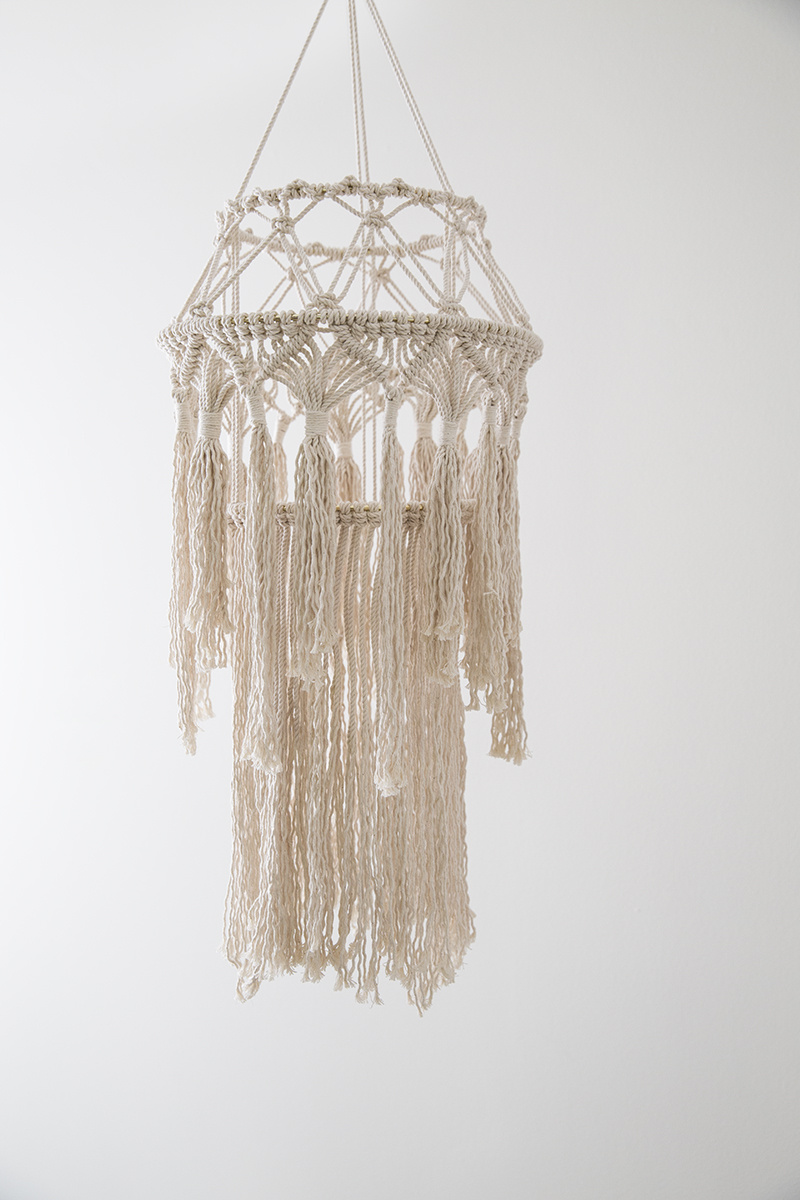 The crib sheet is handmade by Petal and Branch. "It was a perfect match to the wallpaper without being too 'matchy-matchy', but still similar – I really love the soft feel and color." Of the blanket, softies and trash can, Sharon explains, "The last details for me are not afterthoughts, but the final layer." We love the blanket's little pop of bright pink, and the two rascals in the crib: you can almost hear them scheming!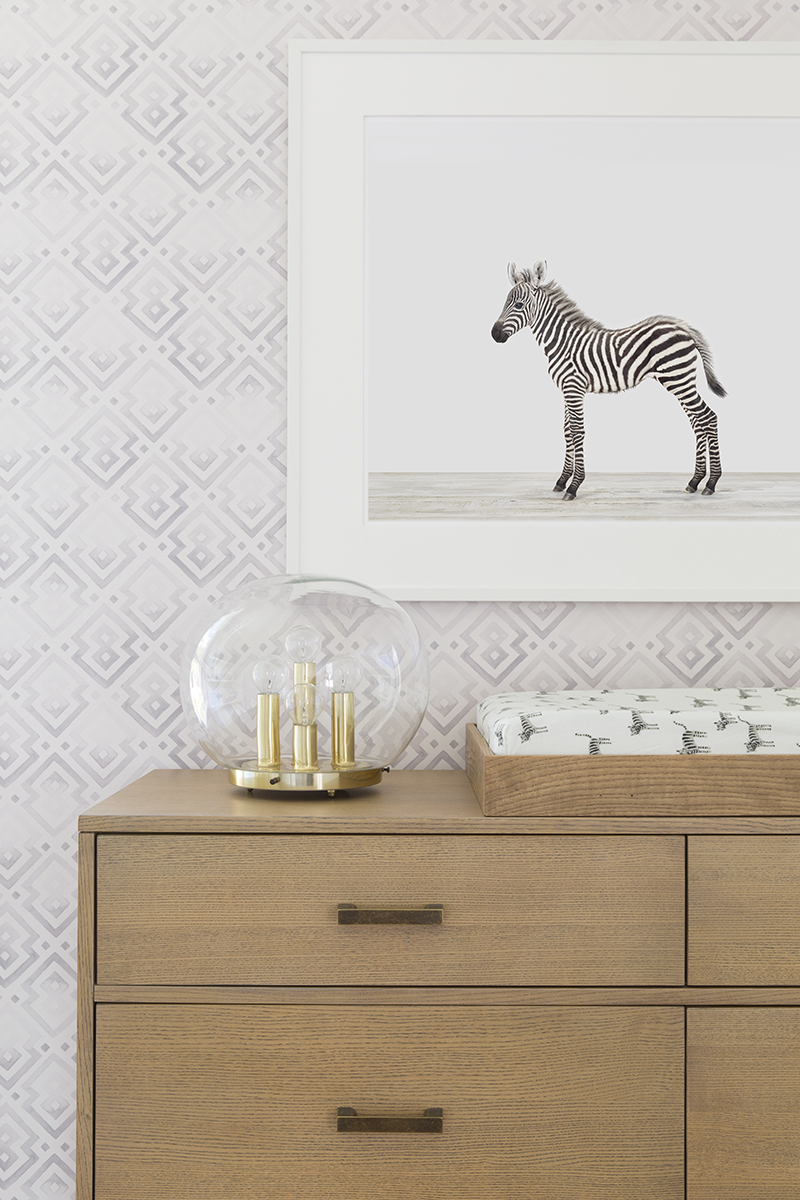 (Photos ©The Animal Print Shop)