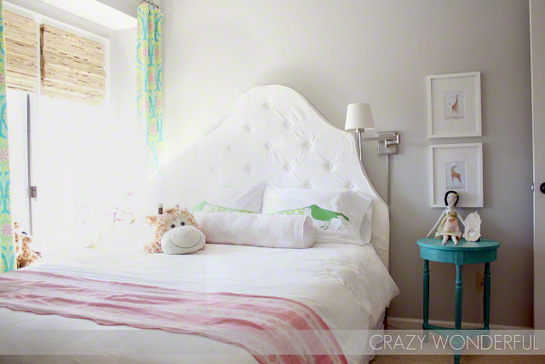 To say that Shelley Westerman's three-year-old daughter, Isabelle, likes giraffes would be understating things a little. "My daughter loves giraffes," Shelley says. "She has stuffed giraffes taking over her room."
Indeed, Isabelle (Izzy, for short) shares a bedroom – a "big girl room" designed by her mother – with quite a few long-necked friends, including our very own Baby Giraffe.
"Without question, I knew The Animal Print Shop's baby giraffe prints were for her," says Shelley. I went with a white mat and frame so the giraffe would take center stage. I didn't want anything taking away from that cuteness."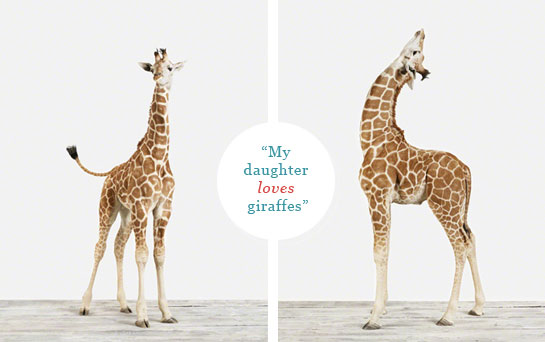 The room's furniture and decor reflect a thoughtful balance of old and new. "My favorite details are the dresser and the wingback chair she inherited from her great-grandmother. They were reworked so they would work in the space, but I love having these pieces as part of Izzy's everyday life."
Many of the room's other heartfelt touches – the sapphire-hued throw pillow, the polka-dotted sock monkey, the paper pom poms in various shades of pink and red – are handmade. "Not only does making my own accessories slash cost, it's also nice knowing she has a one-of-a-kind item made special just for her," says Shelley, who managed to design and decorate the room for just $350.
"When decorating her room, I wanted to make sure I chose items that would have staying power. I didn't want it all to feel so young now that everything would need to be redone in a couple of years – I think a child's room can be mature and sweet at the same time."
And speaking of sweet: "One of Izzy's favorite things to do is feed the giraffes at our local zoo," says Shelley. "Her favorite is a male named Emmett – he always licks her. When she first saw the giraffe prints, she asked it they were of Emmett. I might have told her they were his baby pictures."
We love that. Thank you so much for sharing, Shelley and Izzy!