Grayson William's Chapel Hill, NC nursery may be baby-friendly, but don't get the wrong idea – the decor, punctuated with shades of blue and gray, is decidedly un-babyish. "Overall, I just wanted a clean modern vibe for the room," says his mother, furniture and interior designer Tracy Kalman Jordan.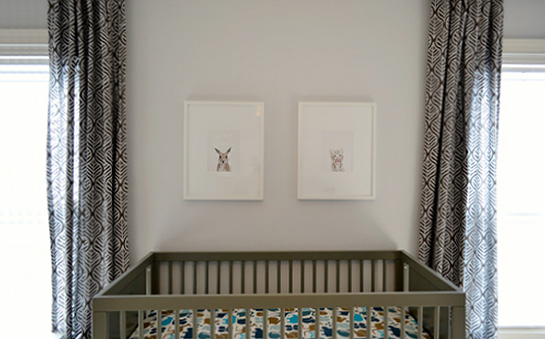 "My favorite details in the room are the animal prints – particularly the babywhite tiger; he has the sweetest face – and the nostalgic items, such as the vintage wooden train set that belonged to my brother when he was a child," says Tracy.
"I used white Ribba gallery frames from Ikea for the prints, which are simple, clean, and work well with the room's modern look. I loved all of the animals, but in the end, I chose based mainly on color scheme and facial expression. I didn't have a particular animal theme for the room, so I was open to choose the ones that spoke to me."
Baby Grayson is a fan of the prints, too-he will stare at them forever! He loves the baby kangaroo, in particular," Tracy says. "Not sure if he's drawn to its ears or what!"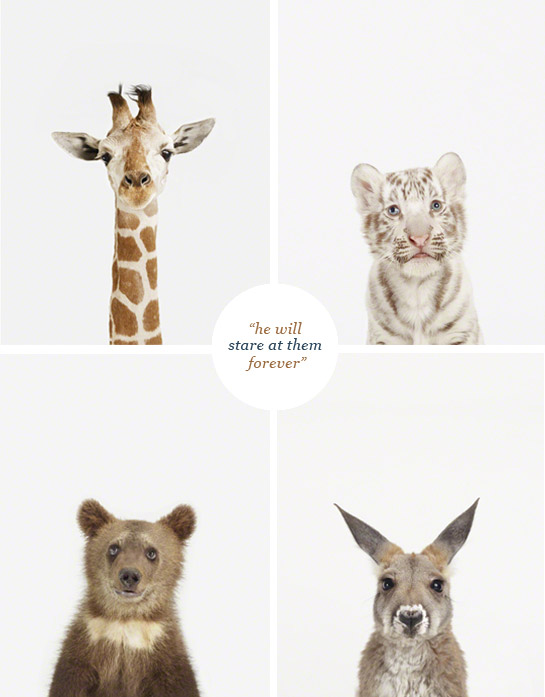 Tracy's nursery-ware shops of choice? Ikea (for my pendant light fixture, the bookcase, and several stuffed animals"), Overstock.com ("great for rugs"), and West Elm (where she found her patterned drapes and felt storage bins). Birch tree wall decals came from the Etsy shop Artwall Project.
"The best place to shop, however," she says, "is in your own home. I pulled in lamps and a side table from another room, and repurposed an old dresser by painting it gray. Moving items from room to room helps keep everything fresh and new."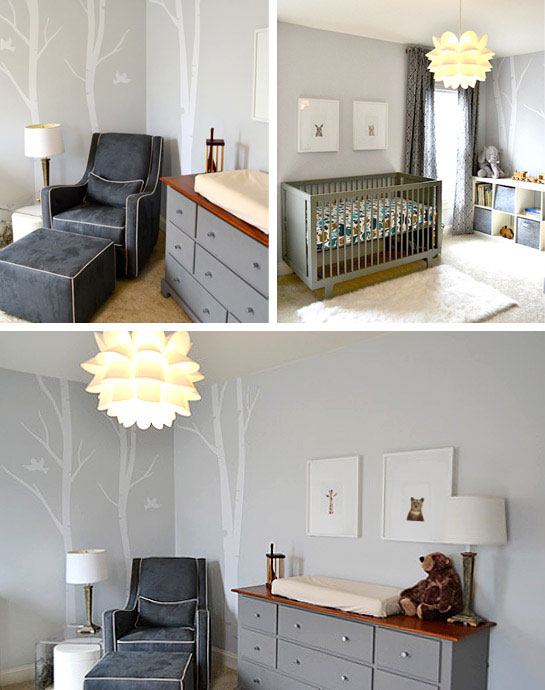 Thank you so much for sharing, Tracy!
Nursery photos by Tracy Kalman Jordan.